The Advantages of Owning an Eco-Friendly Pool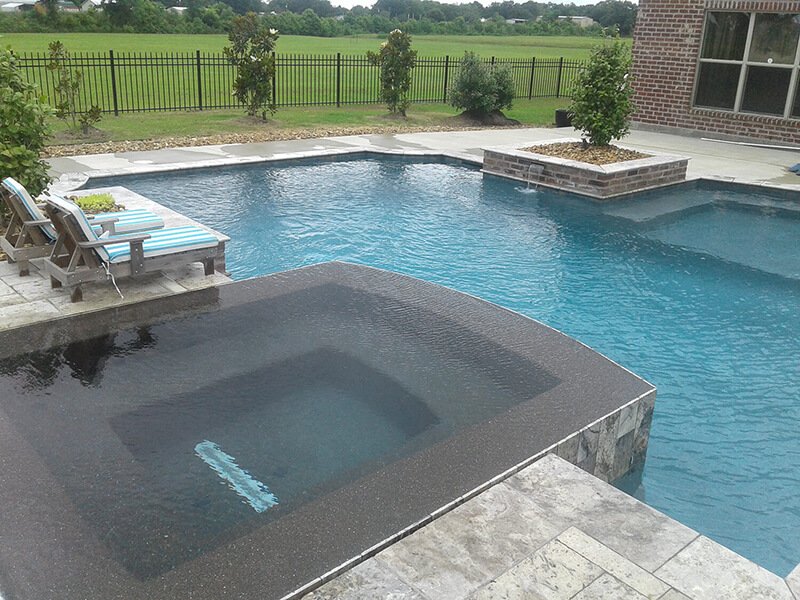 A backyard pool is a great addition to any home, but it is an investment. You might have even heard horror stories about astronomical utility bills. But that's a thing of the past. There's been a shift in building practices throughout recent years, and many of today's reputable pool companies only build pools outfitted with energy-efficient equipment designed to create a wonderful environmentally-friendly backyard oasis that's as good for the Earth as it is for your wallet.
Below are just a few advantages of different aspects of an eco-friendly pool:
Automated Pool Systems: Pool automation systems give you the power to control your entire pool operation network — the pump, sanitization system, pool heater, water features, lights and water chemistry. An automated system allows you to run your pool more efficiently, ultimately saving you time and money spent on maintenance.
Heat Pumps: A heat/cool pool heat pump is a great way to extend your swimming season, while also achieving efficient temperature regulation. Today's energy-efficient heat pumps help you save money on your utility bills not by heating the water, but rather by capturing heat from the surrounding air and moving it throughout the pool. A perk is a heat pump that also offers a cooling mode. The process is reversed when the heat pump pulls the heat from the water and releases it back into the air. These pumps save as much as 80 percent in energy costs.
Variable-Speed Pool Pump: Installing or retrofitting your pool with a variable-speed pump is a great way to effectively reduce energy usage. These pumps can run for shorter periods of time, which are noted to reduce energy use by as much as 70 percent.
Automatic Pool Cleaners: Robotic and automatic pool cleaners are a great green alternative. They use up to 80 percent less power than traditional pool cleaners. Many of these cleaners are programmable, giving you the ability to schedule your cleanings at a convenient time of day.
LED Lights: LED lighting in and around your poolscape will consume nearly 75 percent less energy than other lighting options, as well as have a longer lifespan.
Your Lafayette Pool Building Experts
During the pool building process, there are a lot of decisions that need to be made, many of which will affect the efficiency and longevity of your pool. Give the pool building experts at The Pool Guy of Louisiana a call today to learn more about the different ways to make your new pool more energy efficient and eco-friendly. 
ABOUT THE COMPANY
The Pool Guy is the Lafayette area's innovative and experienced pool builder. By combining careful design with proper planning and quality construction, they create swimming pools and outdoor living spaces that are beautiful additions to homes where memories will be made for years to come.
Started by two experienced pool professionals who set out to give Lafayette area homeowners the service they deserve, The Pool Guy is an award-winning company that doesn't focus on building the most pools — they want to build the best pools. They are a team of highly skilled experts with a reputation for extreme attention to detail. If you want your pool built right, you want The Pool Guy.
The Pool Guy is a proud member of the Association of Pool and Spa Professionals (APSP), the Acadian Home Builder Association, and the Better Business Bureau (BBB). They have three consecutive awards from Locals Love Us and provide outstanding service to Lafayette, Youngsville, Carencro, Broussard, Scott, Duson, Breaux Bridge, New Iberia, Abbeville, St. Martinville, and nearby communities.
Contact them today to start building your own backyard memories. (337) 298-4746