How Technology Has Made Owning a Pool Easy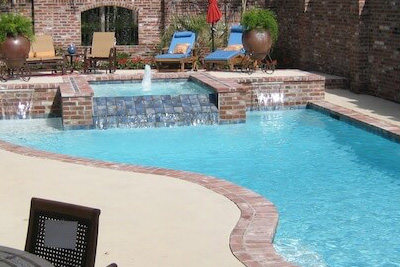 You might be surprised how little effort it takes to maintain a pool these days. The ownership experience has changed greatly thanks to the advancements in pool equipment and technology. With the swipe of a finger from your smart device, you can do quite a bit of work on your pool. From getting it ready for a swim to running filtration equipment, you're never short of ways to automate your pool and keep it operational and healthy. The best part? You can do it from anywhere.
Owning a Pool Has Never Been Easier
Thanks to these technological advancements, pool ownership and maintenance can be a breeze. Let's take a quick look at some tech-forward options that have made owning a pool easy and seemingly worry-free!
Automated Control
Wouldn't it be convenient if you could turn on the pump switch, the lights, or the spa from wherever you may be? The automated one-touch control allows you to do this through your smart device with a programmed remote on the automation unit. By fully automating your pool, you're not only reducing energy consumption, you're also saving money and making pool ownership look easy.
Water Chemistry Monitors
Water chemistry monitors float in the pool while it looks out for things like pH, alkalinity, chlorine levels, and calcium hardness. It then sends data to your smartphone when the water needs adjustment. That way, you don't have to spend all your time testing the water's chemical levels. Talk about convenience.
Robotic Pool Cleaners
Some fishing here and there for dirt and rocks at the bottom of the pool becomes tiring with the old-fashioned suction or pressure cleaner. The robotic pool cleaner is a more advanced tool for regularly keeping your pool clean. It uses sensors, algorithms, and new pool technology to make sure the pool is spotless and ready for use at all times.
Why Pool Technology Matters
While pool ownership is an investment in time, it doesn't have to take the enjoyment out of pool ownership. Your time is best spent in the water, enjoying your pool with family and friends. Today's pool technology was created for busy homeowners. Gone are the days of having to be home to handle all things pool related. You can control the health of your pool via your phone, you can prepare your pool for your return while you're on vacation, and you can rest easy knowing everything will be good whatever the weather brings.
Pool ownership is meant to be enjoyed, and the pool experts at The Pool Guy of Louisiana are excited to help you learn more about why technology is so important to pool ownership and how it can make your experience all the more fun. After all, hard work aside, it's all about smart work now. With the advancements in pool technology, you can rest assured that your pool is a true place of relaxation.
ABOUT THE COMPANY
The Pool Guy is the Lafayette area's innovative and experienced pool builder. By combining careful design with proper planning and quality construction, they create swimming pools and outdoor living spaces that are beautiful additions to homes where memories will be made for years to come. 
Started by two experienced pool professionals who set out to give Lafayette area homeowners the service they deserve, The Pool Guy is an award-winning company that doesn't focus on building the most pools — they want to build the best pools. They are a team of highly skilled experts with a reputation for extreme attention to detail. If you want your pool built right, you want The Pool Guy.
The Pool Guy is a proud member of the Association of Pool and Spa Professionals (APSP), the Acadian Home Builder Association, and the Better Business Bureau (BBB). They have three consecutive awards from Locals Love Us and provide outstanding service to Lafayette, Youngsville, Carencro, Broussard, Scott, Duson, Breaux Bridge, New Iberia, Abbeville, St. Martinville, and nearby communities.
Contact them today to start building your own backyard memories. (337) 298-4746