Planning the Perfect Back to School Pool Party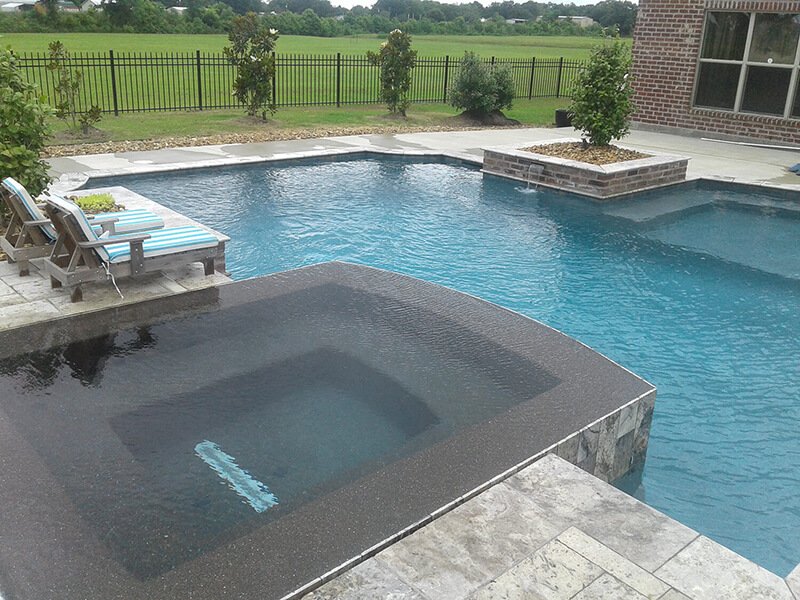 While the kids may not be excited about the start of a new school year, you can help lift their spirits with a back to school pool party. Pool parties are great for all ages, from elementary to high school. Here are some ideas to make back to school time an event your kids look forward to every year. It's a great opportunity for parents to get to know each other, too!
Cover The Basics
Regardless of the theme or time of day of your party, there are some basics that need to be covered if you want to have the perfect back to school pool party.
Have enough food and drink for everyone.

Finger foods (think appetizers) are a great choice since they aren't too filling, and having enough water and fruit juices will keep everyone energized and hydrated. If you feel ever so inspired, try to keep any cooking out on the grill.

Make sunscreen readily available.

Most guests will come slathered in the stuff, but you never know. It's always good to have it on hand.

Fluff up some towels for the big day.

Much like the sunscreen, the majority of people in attendance will bring their own towel. In case they don't, have some extras laundered and in a basket near the pool.

Keep a first aid kit on-hand.

Chances are you already have one by the pool, but take a moment to make sure that it is fully stocked and ready for the party.

Use disposable paper and plastic items for food and drink.

Nothing can spoil a pool party like broken glass. These items are often compostable or recyclable, and they make the after party clean-up a breeze.
Have these items prepared well in advance, so when the festivities begin you can kick back and relax with the other parents, too.
Choose a Theme For Everyone
One of the most challenging aspects about throwing a back to school pool party is the theme. Yes, you want to have something that the kids will be excited about, but you also want a theme that parents will enjoy.
First and foremost, consider the crowd. If you know the likes and dislikes of the people who'll be in attendance, this will go a long way in helping you choose a theme that everyone will have fun with.
Next is to think about the age of both the kids and the parents. Throwing a "Moana" themed party for kids kindergarten through 4th grade is great, but high schoolers will be horrified by the idea. Being the good sports we are, parents and grandparents will more than likely go along with whatever our kids will like.
Lastly, when in doubt, choose a very general theme that's fairly open-ended. Think about eras (the 80s), musicians most people love (The Beatles), comic-related themes (DC or Marvel) and major motion pictures (Star Wars). Dress up your party space to match that theme and let the guests add their own twist with their attire and the food they bring.
Have Activities Planned
Once the theme has been selected, you have free reign to start planning games (or variations of classic games) for your back to school pool party!
Play up the classics. The more simple the rules, the better.
Make "Marco Polo" your own. Have pool party guests shout out part of the name of something that makes sense with your theme (i.e. The person who's it shouts "Bat!" and the other swimmers shout, "man!")

Give tag a try. Tag is a classic, and it will go over just as well with your guests.

Arrange a team sport based on your theme. You can flavor any game of volleyball, basketball or ping-pong to match your theme by mere suggestion. Arrange players in teams with names that make sense for your theme, and you're set!
Make sure you have an arsenal of floaties and pool noodles on hand. When in doubt, these incredible and cost-effective tools will be transformed into game making devices, or your guests make simply put them to good use relaxing upon the tranquil waters of your pool.
Last but not least, allow for some downtime at the end of the party. Parents may want to spend the last hour floating in the pool chatting amongst one another while the kids are out playing with sidewalk chalk or watching a movie, and kids will have to quiet down so that their parents can easily lay them down to sleep at night. The goal is to make sure everyone leaves happy and ready for a new school year.
As we see it, throwing a back to school pool party is the perfect way to do so.
ABOUT THE COMPANY
The Pool Guy is the Lafayette area's innovative and experienced pool builder. By combining careful design with proper planning and quality construction, they create swimming pools and outdoor living spaces that are beautiful additions to homes where memories will be made for years to come.
Started by two experienced pool professionals who set out to give Lafayette area homeowners the service they deserve, The Pool Guy is an award-winning company that doesn't focus on building the most pools — they want to build the best pools. They are a team of highly skilled experts with a reputation for extreme attention to detail. If you want your pool built right, you want The Pool Guy.
The Pool Guy is a proud member of the Association of Pool and Spa Professionals (APSP), the Acadian Home Builder Association, and the Better Business Bureau (BBB). They have three consecutive awards from Locals Love Us and provide outstanding service to Lafayette, Youngsville, Carencro, Broussard, Scott, Duson, Breaux Bridge, New Iberia, Abbeville, St. Martinville, and nearby communities.
Contact them today to start building your own backyard memories. (337) 298-4746