Pick the Perfect Countertop for Your Outdoor Kitchen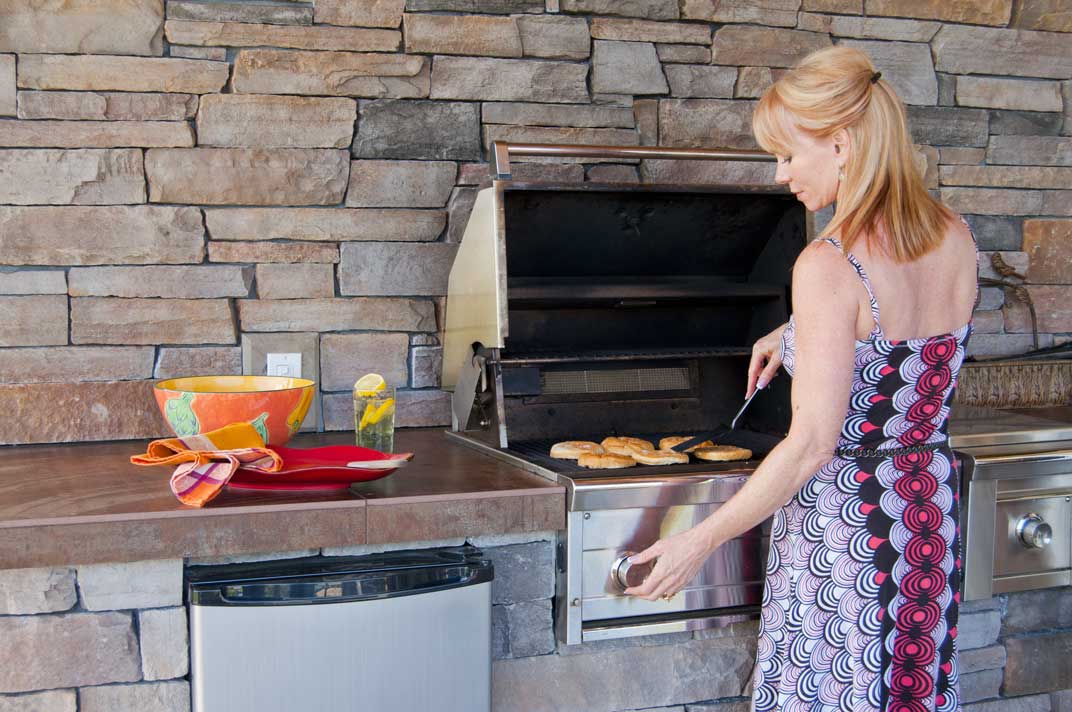 Outdoor kitchen countertops not only need to look great, but they also need to be functional while complementing the overall look and feel of your outdoor living space. There are a number of attractive and smart choices for outdoor kitchen countertops.
For The Budget-Wise
1. Stainless Steel
Economical, easy to clean, and suitable for almost all geographic areas, stainless steel is the ideal choice for functionality and a contemporary look. Stainless steel outdoor kitchen countertops are best when located in a shady or covered spot, as they can get pretty hot if exposed to direct sunlight.
2. Concrete
Concrete is the ultimate choice if you're looking to create a unique, one-of-a-kind design. They can be painted and textured to match almost any style. Concrete outdoor kitchen countertops are fairly inexpensive and will last for years and years with very minimum maintenance.
3. Plastic Laminate
A budget-friendly choice, you can find some lovely laminate designs and they seem to be getting more innovate in their appearance every day. But remember that the plastic is attached by adhesion, so you'll need to perform regular maintenance to ensure that the laminate is still sticking properly.
For The Rock Lovers
4. Soapstone
Beautiful and teeming with color choices, many homeowners select soapstone because it's fairly durable while offering a lot of flexibility in terms of color options. The drawback: the stone can be scratched, however a dab of mineral oil and a soft cloth can take care of most small scratches.
5. Slate
Slate outdoor kitchen countertops are a great choice for a gorgeous and unique countertop that requires little maintenance. Having low porosity, these countertops are stain, heat and weather-resistant.
6. Porcelain
This type of countertop material is sturdy and stands up well to the outdoor elements. This type of countertop does require a bit more maintenance, but it's well worth the extra TLC when you see the wide selection of shapes, surface designs, and colors.
7. Granite
Granite is on the expensive side, but homeowners should look at it as an investment. It's incredibly long lasting, durable, and it can withstand any and all elements, making it ideal for your outdoor kitchen space.
8. Ceramic Tile
Though the trends these days lean towards having a "seamless" countertop, ceramic tiling is still among the most popular choices for outdoor kitchen countertops. If your kitchen will be in direct sunlight, consider choosing colors that are naturally more fade-resistant than others.
For The Naturalists
9. Wood
Wood is a less popular choice because it does require a little extra maintenance. It's susceptible to burns, stains, and can be damaged by outdoor elements if not properly treated. But that being said, a wooden countertop will look amazing and be a highlight of your outdoor kitchen.
10. Recycled Materials
Reclaimed wood, paper materials, and plastic can create incredibly unique counter spaces while putting less strain on the environment. However, these countertops can lack the durability and longevity of other outdoor kitchen countertop materials. But if you're outdoor kitchen will be in a covered area and pretty well protected from the elements, recycled materials are a great choice.
Get started on your dream backyard today! From gorgeous swimming pools to beautiful and functional outdoor kitchens and covered patios, The Pool Guy of Louisiana can turn your backyard into the outdoor living space you've always wanted.
ABOUT THE COMPANY
The Pool Guy is the Lafayette area's innovative and experienced pool builder. By combining careful design with proper planning and quality construction, they create swimming pools and outdoor living spaces that are beautiful additions to homes where memories will be made for years to come.
Started by two experienced pool professionals who set out to give Lafayette area homeowners the service they deserve, The Pool Guy is an award-winning company that doesn't focus on building the most pools — they want to build the best pools. They are a team of highly skilled experts with a reputation for extreme attention to detail. If you want your pool built right, you want The Pool Guy.
The Pool Guy is a proud member of the Association of Pool and Spa Professionals (APSP), the Acadian Home Builder Association, and the Better Business Bureau (BBB). They have three consecutive awards from Locals Love Us and provide outstanding service to Lafayette, Youngsville, Carencro, Broussard, Scott, Duson, Breaux Bridge, New Iberia, Abbeville, St. Martinville, and nearby communities.
Contact them today to start building your own backyard memories. (337) 298-4746