New Year, New Custom Pool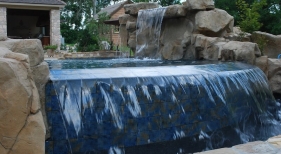 When the New Year begins, it is a common trend among many to have a renewed sense of awareness regarding their health and wellness. Whether you want to be more active, take better care of yourself overall, or just focus on incorporating more relaxation into your everyday life, this admirable goal can be difficult to accomplish without the right atmosphere. The start of the New Year gives us the perfect opportunity to make changes in our lives. One of the best ways to start is by building a custom pool in your backyard.
This year, it's all about turning your backyard into your own personal oasis. A custom pool is a great way to not only enhance your outdoor living space but also your personal wellbeing. A pool is a perfect addition to any backyard, especially for those who hope to have a New Year's resolution for improved health and wellness. Start the New Year off right and begin the process of building a custom pool designed just for you.
Things To Consider When Building a Pool
The most important thing to remember when deciding on a pool builder is that while there are many to choose from, working with a reputable pool builder is the most important. Anyone can say they can build a pool, but do they have the reputation and portfolio that backs up their claims? A history of experience and knowledge is a must, which is why hiring a local pool builder with a long-standing reputation is so important! It ensures you are getting someone who has dealt with building pools before.
The next thing to consider is what goals you're trying to achieve. Are you looking to design a pool that complements your backyard and is more for relaxation and aesthetic purposes? Or are you wanting a pool that allows you to achieve your health and wellness goals? Your pool building experts will work closely with you to determine what custom pool design helps you reach your goals. A custom pool is just that, fully customizable and able to look any way you choose. Whether you want a place where you can relax on the weekends a mere steps away from your home or you're looking to get out each morning and swim laps to get yourself in shape and strong, designing a pool that makes sense for your personal needs is a must.
A swimming pool will add value to your home, but not just in terms of monetary value. Your backyard will become the place where everyone wants to be, and that can truly have a positive effect on your New Year's resolution for health and wellness.
Your Locally-Owned Pool Building Experts
Making the decision to build a pool is a big one, and it shouldn't be taken lightly. The past few years have brought a lot of change to the pool and spa industry, and it's important to be able to trust the company you're investing in. By choosing a reputable locally-owned pool builder, you can reap the benefits of the relationships they've built with the very manufacturer and suppliers necessary to make your backyard dreams come true. And you can trust they are going to listen to your needs and build you the pool you've always wanted.
At The Pool Guy, we take pride in providing our customers with an exceptional pool-building experience from start to finish. Since the beginning, we've committed ourselves to create a truly luxury experience during the pool building process, and we look forward to bringing your vision to life. 
The Leading Pool Builder in Lafayette
Now is the perfect time to focus on making lasting memories with family and friends, and one of the best ways to do that is with a new pool. With everyday life constantly evolving in today's climate, it's important to have a place where you can unwind and relax, as well as achieve all of your health and wellness goals to ensure your mind and body are in the best shape possible.
Give the pool building experts at The Pool Guy a call today to schedule your on-site design consultation to begin. 
ABOUT THE COMPANY
The Pool Guy is the Lafayette area's innovative and experienced pool builder. By combining careful design with proper planning and quality construction, they create swimming pools and outdoor living spaces that are beautiful additions to homes where memories will be made for years to come.
Started by two experienced pool professionals who set out to give Lafayette area homeowners the service they deserve, The Pool Guy is an award-winning company that doesn't focus on building the most pools — they want to build the best pools. They are a team of highly skilled experts with a reputation for extreme attention to detail. If you want your pool built right, you want The Pool Guy.
The Pool Guy is a proud member of the Association of Pool and Spa Professionals (APSP), the Acadian Home Builder Association, and the Better Business Bureau (BBB). They have three consecutive awards from Locals Love Us and provide outstanding service to Lafayette, Youngsville, Carencro, Broussard, Scott, Duson, Breaux Bridge, New Iberia, Abbeville, St. Martinville, and nearby communities.
Contact them today to start building your own backyard memories. (337) 298-4746