Give Yourself a Backyard You Can Fall in Love With This Year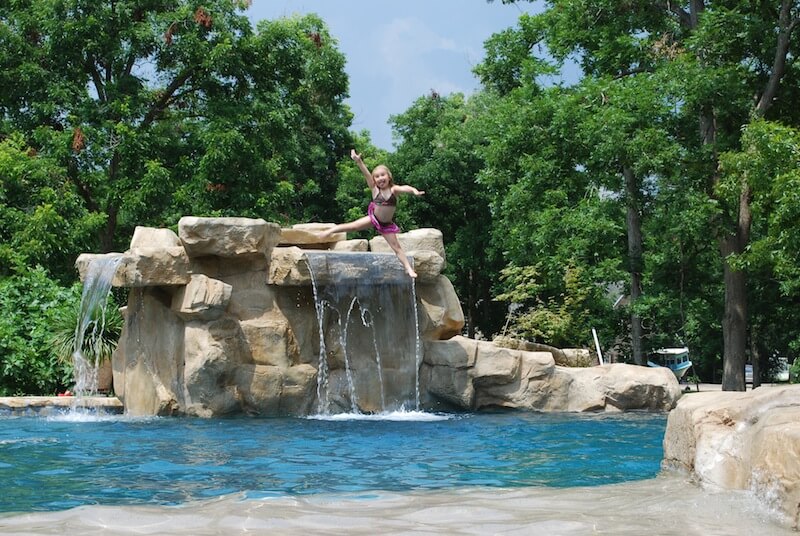 If you look out into your backyard and feel that there's something missing, it may be time to consider adding a custom inground pool. It's the perfect time to give yourself a backyard you will fall in love with this year and treat yourself to something new you can enjoy with family and friends for years to come.
When it comes to investing in a custom poolscape, you may wonder if it's worth it. Read on to learn more about why it's important to invest in your backyard and create a space dedicated to relaxation and making memories.
Why a Custom Poolscape?
If you've been hesitant to get a pool because you picture the uninspired looks of pools from years before, get those images out of your head. Your pool builder will take into account a number of factors, including your current landscaping, the aesthetics of your yard, the look of your home, and what elements may go well with the design of the pool.
During an in-depth design consultation either at your home or in a design studio, you'll work closely with your pool designer to determine what features you want your pool to have. Anything from water features to custom rock work to specialized materials, infinity edges and so much more, the options are truly endless. The point of a custom pool is to ensure that you're creating a space that complements your home while also providing you with a space you love and look forward to enjoying often.
Is a Custom Pool Worth It?
Absolutely, and for several reasons!
1. Enjoyment for decades. Custom pools are designed to last for decades, especially when you take care of them properly. Whether you've got young kids who will be in the pool often or you enjoy entertaining poolside, a pool is a great way to invest in fun.
2. No problem for smaller spaces. Custom poolscapes make the most of the space you have, whether you have a small, fenced-in yard or a sprawling few acres. A reputable pool builder will work with you to ensure you maximize your space, giving you an outdoor living area that encompasses its full potential.
3. A variety of colors and materials. Suppose your yard features a beautiful garden space with lush, tropical plants. Your pool designer can create a custom poolscape that embraces the sparkling blue waters of a tropical beach or even a small waterfall that takes you half a world away to a vacation destination without ever leaving your property.
4. Increases property value. If you sell your home at some point, or if your kids sell your home, a custom poolscape enhances the property value and increases the asking price. Today's market is a hot one, and homes that have pools make out greatly.
5. Entertainment year-round. Best of all, you get to enjoy the pool with family and friends. Imagine the excitement of a pool party for your kids or grandkids. Lay out by the pool on sunny days to soak up the sun and read a book. Lay back, relax, and sip on your favorite cocktail after a hard week of work. Take a relaxing dip in the pool to cool off, ease your tired muscles, or just enjoy the water.

Not Just Good Looks

Being a pool owner means more than just a good-looking backyard. Pool ownership also affords you a number of physical and mental health benefits.
Allows you to have a staycation every week to get away from it all without leaving the house.
Provides more family fun time with kids and grandkids.
Offers a romantic spot to hang out with your sweetheart.
Creates opportunities for better physical fitness with low-impact water workouts.
Enhances relaxation as you soak up more sun, giving you higher levels of vitamin D in your body.
Gives you a way to relieve stress. Leave your smart devices inside the house and step outside and into the water.
Cool outside office. If you now work from home, sit poolside and work on your laptop in the fresh air. Remote work is the norm now, so use that outdoor office to help make you more productive!
Your Lafayette Expert Pool Builders
If you're tired of staring at an uninspired backyard, give the pool building experts at The Pool Guy a call to schedule your design consultation. We welcome you to browse through our pool design gallery to see just a sampling of the different design elements we can incorporate into your poolscape. Fall in love with your backyard living space by adding a custom pool today. 
ABOUT THE COMPANY
The Pool Guy is the Lafayette area's innovative and experienced pool builder. By combining careful design with proper planning and quality construction, they create swimming pools and outdoor living spaces that are beautiful additions to homes where memories will be made for years to come.
Started by two experienced pool professionals who set out to give Lafayette area homeowners the service they deserve, The Pool Guy is an award-winning company that doesn't focus on building the most pools — they want to build the best pools. They are a team of highly skilled experts with a reputation for extreme attention to detail. If you want your pool built right, you want The Pool Guy.
The Pool Guy is a proud member of the Association of Pool and Spa Professionals (APSP), the Acadian Home Builder Association, and the Better Business Bureau (BBB). They have three consecutive awards from Locals Love Us and provide outstanding service to Lafayette, Youngsville, Carencro, Broussard, Scott, Duson, Breaux Bridge, New Iberia, Abbeville, St. Martinville, and nearby communities.
Contact them today to start building your own backyard memories. (337) 298-4746