5 Easy Ways to Create the Perfect Backyard Getaway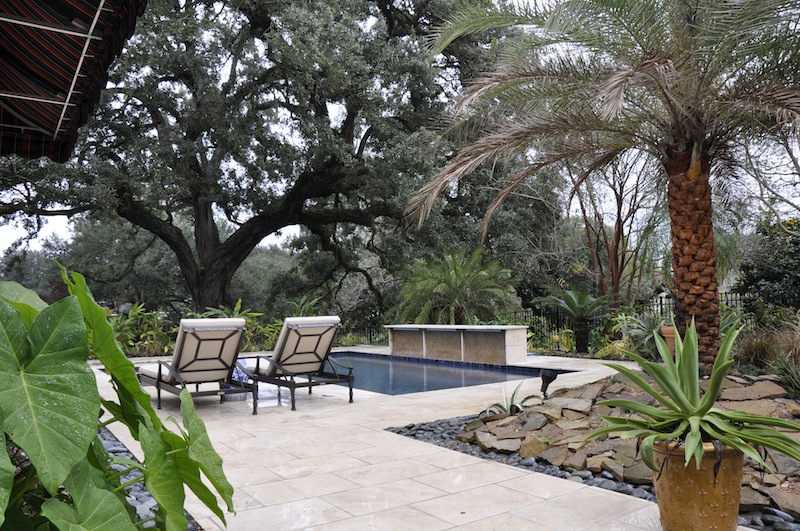 When it comes to winding down after a long day at work or looking forward to a lazy weekend at home, there's not much better than relaxing in the comfort of your backyard. But if your backyard lacks the aesthetic and functionality of a beautiful outdoor oasis, then it's time to make a change. Read on for five ways to transform your backyard into the perfect outdoor living getaway.
1. Custom Pool: A custom pool is a perfect addition to any backyard. It provides a refreshing spot for swimming, lounging, and entertaining. When it comes to the design features of your pool, the options are truly endless. From waterfalls and fountains to custom spas, LED lighting, and more, there are many ways to make your custom pool unique to your home and needs. They are perfect for making memories with family and friends and serve as a stunning focal point in your backyard.
2. Outdoor Kitchen: An outdoor kitchen is an ideal addition for the culinary enthusiast or anyone who wants to take advantage of life outdoors year-round. These beautiful spaces allow you to cook and prepare meals al fresco while enjoying the beauty of your backyard. An outdoor kitchen can be customized to include features like grills, refrigerators, sinks, and storage. It also provides a great spot for entertaining guests while enjoying the fresh air and sunshine.
3. Fireplace & Fire Pits: A fireplace or fire pit is necessary for any backyard getaway. It creates a cozy atmosphere and provides warmth on chilly evenings. You can choose from various styles, materials, and sizes that will complement your outdoor living space as a whole. A fireplace or fire pit also makes a great gathering spot for friends and family, perfect for roasting marshmallows or enjoying a glass of wine. Add stylish cushions, blankets, and accessories to personalize the space.
4. Custom Spa: A custom spa is a luxurious addition to any backyard, providing a soothing spot for relaxation and rejuvenation. You can customize your spa with features like jets, lighting, and temperature control to create a more personalized spa experience. These are beautiful additions to your custom pool and allow a seamless transition from the cooling pool waters to a warm soak under the stars.
5. Patio Coverings & Gazebos: Remember the shade for your outdoor living space! A patio covering or gazebo is a great addition to your backyard getaway, as it provides protection from the elements, allowing you to enjoy your backyard no matter the weather. Patio coverings can be built based on the aesthetics and materials of your home to allow for a more seamless transition. These additions create the perfect spot for outdoor lounging and dining, rain or shine.
Your Lafayette Outdoor Living Design Experts
Whether you're looking for a place to relax, entertain, or rejuvenate, there's no better way to take your backyard to the next level with a custom outdoor living space. It's time to unlock your backyard's potential and create a space you can enjoy without the hassle of leaving home any time you want. Call the Lafayette outdoor living design experts at The Pool Guy to schedule your design consultation today.
ABOUT THE COMPANY
The Pool Guy is the Lafayette area's innovative and experienced pool builder. By combining careful design with proper planning and quality construction, they create swimming pools and outdoor living spaces that are beautiful additions to homes where memories will be made for years to come.
Started by two experienced pool professionals who set out to give Lafayette area homeowners the service they deserve, The Pool Guy is an award-winning company that doesn't focus on building the most pools — they want to build the best pools. They are a team of highly skilled experts with a reputation for extreme attention to detail. If you want your pool built right, you want The Pool Guy.
The Pool Guy is a proud member of the Association of Pool and Spa Professionals (APSP), the Acadian Home Builder Association, and the Better Business Bureau (BBB). They have three consecutive awards from Locals Love Us and provide outstanding service to Lafayette, Youngsville, Carencro, Broussard, Scott, Duson, Breaux Bridge, New Iberia, Abbeville, St. Martinville, and nearby communities.
Contact them today to start building your own backyard memories. (337) 298-4746