The Most Cost-Effective Ways to Heat Your Pool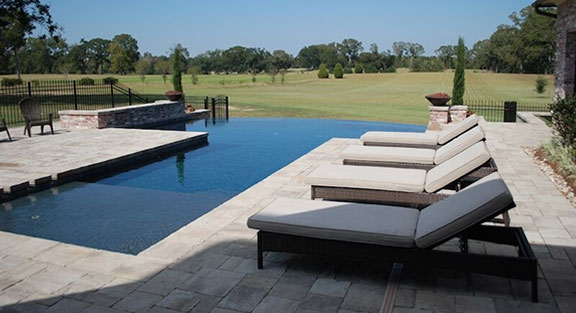 If you've yet to make a decision regarding the best way to heat your pool, now may be a perfect time to consider your options. We've put together a list of the most cost-effective ways to heat your pool so you can determine the best one for your needs and budget!
1. Solar Cover
When it comes to solar heating, buying a solar cover is one of the most inexpensive options. Does it work? Yes. The amount of heat retained depends on how big your pool is and how much direct sunlight it gets. On average, you'll gain 10 to 15 degrees.

A study conducted in 2014 by Colgate University showed how using a solar cover nightly for seven hours saved over 30% in energy costs. You can also prevent heat loss and evaporation by more than 95%.
2. Pool Heater
A pool heater is a more expensive option, but also a very smart way to maximize your backyard investment. They can give you almost total control of your pool's water and will add many extra days to your swim season.

Because of the different pool heaters available, it can be hard to choose the right one. Before buying a pool heater, you should consider things like your location, pool size, temperature needs, and of course, your budget.

That said, a pool heater adds value over time and lasts you a long time. Other options, like pool covers, need replacing more frequently. Add up the cost for a few years or so, and you'll find that a pool heater could very likely have a lower net cost.
3. Heat Pump
You should get a heat pump if you value long-term gain over short-term expense. While it saves you money over time, the upfront cost for a heat pump is not for everybody. However, once you install your heat pump, it can last up to 15 years. Heat pumps can be installed during pool construction or retrofitted at any time after.
The initial buying price is the most expensive part, but a heat pump's efficiency will help offset that cost. You measure a heat pump's efficiency in COP, and the average value is between 5.0 to 6.0. This makes the efficiency rate to be around 500 to 600%, so a single unit of electricity is converted into 5-6 units of heat. Heat pumps are definitely the best option for both overall energy and money savings.
Lafayette Pool Building Experts
At the end of the day, the pool heating method that's best for you depends on your needs, your pool, and your budget. Give the Lafayette pool building experts a call today and learn more about the different options available and how we can help you get the most out of your pool. 
ABOUT THE COMPANY
The Pool Guy is the Lafayette area's innovative and experienced pool builder. By combining careful design with proper planning and quality construction, they create swimming pools and outdoor living spaces that are beautiful additions to homes where memories will be made for years to come. 
Started by two experienced pool professionals who set out to give Lafayette area homeowners the service they deserve, The Pool Guy is an award-winning company that doesn't focus on building the most pools — they want to build the best pools. They are a team of highly skilled experts with a reputation for extreme attention to detail. If you want your pool built right, you want The Pool Guy.
The Pool Guy is a proud member of the Association of Pool and Spa Professionals (APSP), the Acadian Home Builder Association, and the Better Business Bureau (BBB). They have three consecutive awards from Locals Love Us and provide outstanding service to Lafayette, Youngsville, Carencro, Broussard, Scott, Duson, Breaux Bridge, New Iberia, Abbeville, St. Martinville, and nearby communities.
Contact them today to start building your own backyard memories. (337) 298-4746.