Is My Backyard Big Enough for a Pool?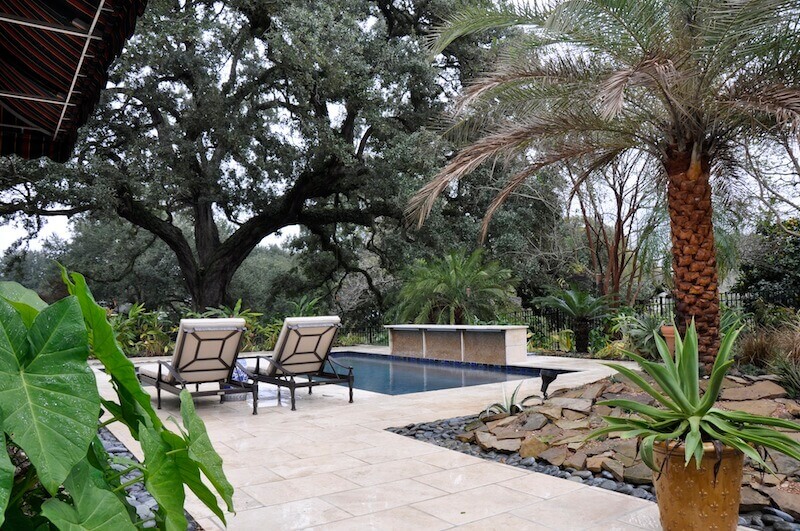 Now is a great time to consider adding a pool to your backyard. With more people dedicated to staying at home, it's the perfect opportunity to utilize your space and create a personalized outdoor oasis. However, the one question that stops many from moving forward will surely be at the forefront of your mind. Is your backyard big enough for a pool?
Size Isn't the Only Thing
Before you begin the pool design process, you will need to be made aware of a few things. Interestingly enough, the size of your pool isn't only dependent on how large your backyard may be, but it does play a role. Aesthetically speaking, you'd want a pool that covers no more than a quarter of your yard. Any more or less can look awkward and decrease both the utility of your pool and the functionality of your backyard.
In some cases, a smaller pool can work if you design the area around it appropriately. The ideal size of your pool should be long enough to allow you to engage in active swimming if that's your main priority or big enough to still be able to enjoy time in the water. It shouldn't be so large that it begins to overshadow the rest of the backyard completely.
There are some other things you should consider when determining if your backyard is big enough for a pool. Read on to learn more about different things you'll need to consider when deciding if your backyard is ready for a pool.
Septic System or Underground Utilities
You will need to contact your local utility company to mark the location of all the underground systems in your yard prior to the pool construction process. Even if your yard is large enough to fit the pool of your dreams, you've got to consider the depth as it could affect previously installed underground utilities. A uniform depth pool is one that is most commonly preferred because of the nature of utility layouts.
Zoning Regulations
Many cities, counties and states tend to have different zoning rules that require a specific portion of the yard be dedicated to green space. Before you call your pool builder, make sure you check in with the local zoning office. You can quickly clarify any of the rules you may have questions about with the office.
Existing Landscaping and Backyard Structures
Backyards aren't often just empty, waiting for a pool to be built. There could be numerous things like trees, fencing, outbuildings or even retaining walls already in place. Once you meet with your pool builder, you'll be able to discuss what, if anything, needs to be removed or moved to another location to best accommodate a pool.
Safety Considerations
Much like zoning regulations, there are local, state and federal safety regulations regarding keeping your pool safe with fencing or a safety barrier. These mandates are put in place to reduce and prevent childhood drownings. Familiarize yourself with what's required and ensure you act to protect your family and friends from any unwelcome situations that could occur. Under no circumstances should little children be allowed in or near the pool by themselves.
Your Budget
Your budget also plays an important role in determining the size of the pool that can be built in your backyard. Even if you have the yard space, a smaller pool might fit your budget better. Determine what you're looking to spend and work with your pool builder to create a space that fits your budget and your yard.
The Perfect Lafayette Backyard
As you can see, there are several essential things you need to consider before you decide on your pool design and size. It's important to do some research prior to contacting your pool builder so you can be prepared and ready to talk to your pool builder.
For more information about building a Lafayette pool at your home, give the pool building experts at The Pool Guy of Louisiana a call today.
ABOUT THE COMPANY
The Pool Guy is the Lafayette area's innovative and experienced pool builder. By combining careful design with proper planning and quality construction, they create swimming pools and outdoor living spaces that are beautiful additions to homes where memories will be made for years to come.
Started by two experienced pool professionals who set out to give Lafayette area homeowners the service they deserve, The Pool Guy is an award-winning company that doesn't focus on building the most pools — they want to build the best pools. They are a team of highly skilled experts with a reputation for extreme attention to detail. If you want your pool built right, you want The Pool Guy.
The Pool Guy is a proud member of the Association of Pool and Spa Professionals (APSP), the Acadian Home Builder Association, and the Better Business Bureau (BBB). They have three consecutive awards from Locals Love Us and provide outstanding service to Lafayette, Youngsville, Carencro, Broussard, Scott, Duson, Breaux Bridge, New Iberia, Abbeville, St. Martinville, and nearby communities.
Contact them today to start building your own backyard memories. (337) 298-4746.