5 Tips for a Modern Pool Design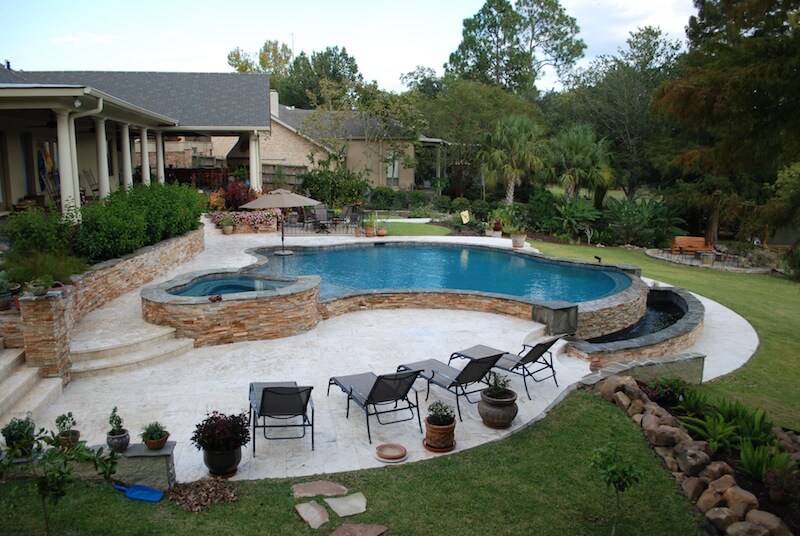 Are you interested in a sleek and modern aesthetic for your pool design? Most modern pools are minimalistic, so the challenge is not determining what to add but figuring out how to keep the look clean and simple. As you put together plans for your new pool, consider these five design features for a sleek and modern pool design.
Minimal Pool Features
Most modern pools achieve their sleek style with very simple pool features. While features like large water slides, rock grottos and tiki torches add exciting elements to your backyard design, today's modern pools have nothing more than a few tasteful pieces of patio furniture on the deck and purposeful lighting features. If you want to add something to the pool and surrounding space, consider unique underwater lighting, single stream fountains, or small water flow instead of large flowing waterfalls.
Understated, Classic Pool Lighting
When designing a sleek, modern pool, you should look for subtle, classic pool lighting choices that still provide ample lighting for pool and patio activities. Consider symmetrical fire pits, ambient floating candles, and simple torch lights. Keep in mind that understated does not necessarily mean small. For example, there are large fire pits with very modern styles.
Simple Modern Patio Furniture
As you put together a modern pool space, it is important to remember that pool space exists for rest and relaxation. As such, pool patio furniture should promote peace and comfort. Look for enticing lounge chairs, wicker pieces with large cushions, simple wooden furniture, and glass patio tables with neutral umbrellas.
Modern Deck Surface
The most important aspect of choosing a deck material and design is that they coordinate with the house and landscaping. This process ensures that the entire property will have a cohesive modern aesthetic. If you do not take the time to do this, a modern pool may look out of place in its setting.
Geometric: The Modern Pool Design Shape
A geometric pool shape can help to create a sleek and streamlined design. Rectangular is the prominent shape for modern pool designs and remains classic. As long as you continue to update the surrounding pool elements regularly, you'll be able to maintain a modern, geometric pool for many years.
Your Lafayette Pool Design Experts
Less is often more, and the simplicity of modern pool designs makes them stand out. When it comes to creating a beautiful outdoor space that encompasses the modern aesthetic, give the Lafayette pool design experts at The Pool Guy a call today. We will work closely with you throughout the design and build process to bring your backyard vision to life. 
ABOUT THE COMPANY
The Pool Guy is the Lafayette area's innovative and experienced pool builder. By combining careful design with proper planning and quality construction, they create swimming pools and outdoor living spaces that are beautiful additions to homes where memories will be made for years to come.
Started by two experienced pool professionals who set out to give Lafayette area homeowners the service they deserve, The Pool Guy is an award-winning company that doesn't focus on building the most pools — they want to build the best pools. They are a team of highly skilled experts with a reputation for extreme attention to detail. If you want your pool built right, you want The Pool Guy.
The Pool Guy is a proud member of the Association of Pool and Spa Professionals (APSP), the Acadian Home Builder Association, and the Better Business Bureau (BBB). They have three consecutive awards from Locals Love Us and provide outstanding service to Lafayette, Youngsville, Carencro, Broussard, Scott, Duson, Breaux Bridge, New Iberia, Abbeville, St. Martinville, and nearby communities.
Contact them today to start building your own backyard memories. (337) 298-4746