New Year's Fitness Resolutions Are Easy with a Pool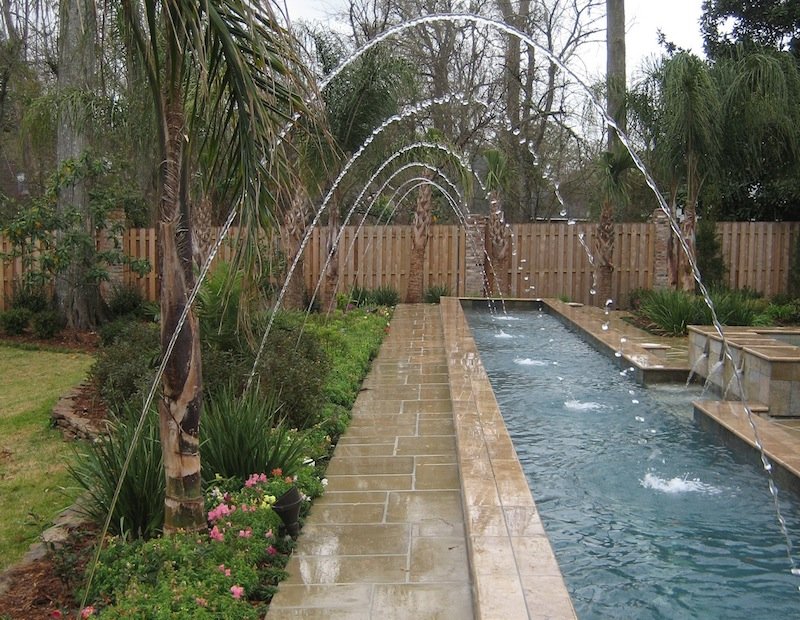 Perhaps the most common New Year's Resolution people make every year is, "I want to get in shape," or "I'd like to lose some weight." There are many ways you can do this — pay every month for an expensive gym membership, go running every day (which is hard on your knees and back), or you can have fun swimming in your very own custom inground pool. When it comes to holiday fitness resolutions, there's no better way to make them last than with the health benefits of owning a pool.
Lafayette Swimming Pools And Fitness
Swimming and fitness go hand-in-hand. A swimming routine is one of the best ways to exercise and get fit. Moving around in the water exercises nearly every muscle in your body, builds your endurance, and has a wealth of cardiovascular health benefits. Of course you can always swim laps at the public pool, but a custom inground pool lets you take it at your own pace whenever you want and without prying eyes.
Health Benefits of Owning a Pool
The best way to get started on your New Year's fitness resolution (other than scheduling a FREE on-site consultation) is to start small and build. Set weekly goals—start with just a lap or two, building gradually as you go. By the end of four weeks, you may be surprised at just how far you can swim and just how much better you feel. But no matter how many laps you're able to swim, your new swimming pool will be the foundation for a healthier future.
Muscular Benefits of Owning a Pool
Every stroke of every lap you take builds your muscle tone, strength, power, speed, and endurance. The kind of strength training you get from owning a swimming pool can actually translate to other areas of your body and athletics. People who swim can often run faster and longer, lift more, jump higher, and perform better at many other feats.
This is because swimming is resistance training. While in the swimming pool, the water puts resistance on every muscle in your body, forcing you to work and exert every inch of your body while you build power and strength.
Relaxation Benefits of Owning a Pool
Swimming and playing in the water are soothing to your body and mind, as well as helping you train. Swimmers often find that they suffer fewer muscle aches and pains than those who weight train or engage in other kinds of physical activity. Because water has this massaging and soothing effect on your body, it's also an excellent addition to a lifting or bootcamp-type exercise routine.
Swimming will not only get your heart pumping, it is fun and relaxing as well. After you finish your laps, spend some time floating on your back and just enjoying the cool water. Relaxation is an important part of a health routine. Don't neglect your mind when focusing on overall fitness.
Time to Schedule a FREE Consultation
If your New Year's Resolution is to lose weight, build muscle tone, and generally get in shape, then a new swimming pool will help you reach and stick to your wellness goals. Just start small and easy and build to your eventual goal and before you know it, you'll be in great shape and swimming like a pro!
If you're ready to get started building a great custom inground pool, we're ready to make it happen. Look at our pool construction gallery for inspiration and then get in touch with us to get started today!
ABOUT THE COMPANY
The Pool Guy is the Lafayette area's innovative and experienced pool builder. By combining careful design with proper planning and quality construction, they create swimming pools and outdoor living spaces that are beautiful additions to homes where memories will be made for years to come.
Started by two experienced pool professionals who set out to give Lafayette area homeowners the service they deserve, The Pool Guy is an award-winning company that doesn't focus on building the most pools — they want to build the best pools. They are a team of highly skilled experts with a reputation for extreme attention to detail. If you want your pool built right, you want The Pool Guy.
The Pool Guy is a proud member of the Association of Pool and Spa Professionals (APSP), the Acadian Home Builder Association, and the Better Business Bureau (BBB). They have three consecutive awards from Locals Love Us and provide outstanding service to Lafayette, Youngsville, Carencro, Broussard, Scott, Duson, Breaux Bridge, New Iberia, Abbeville, St. Martinville, and nearby communities.
Contact them today to start building your own backyard memories. (337) 298-4746