Lafayette Pool Design Ideas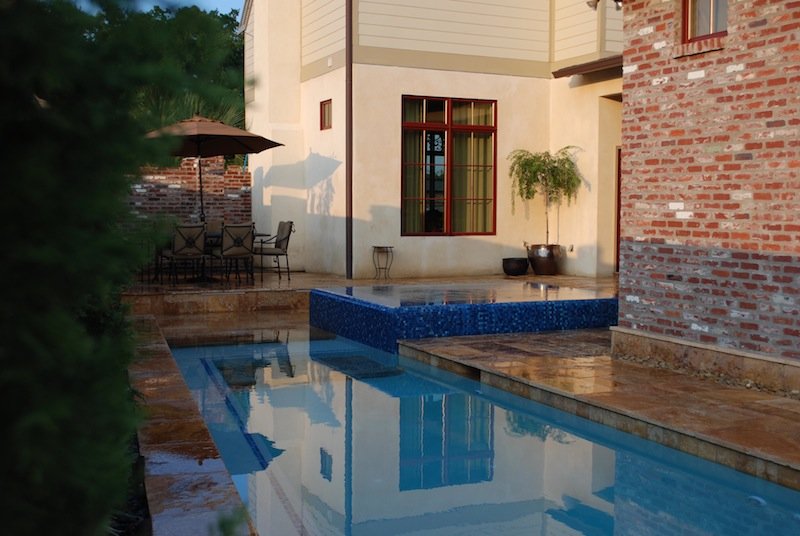 When building a swimming pool there are a lot of decisions to be made. Homeowners have to think about what type of swimming pool design they want, how it's going to be used (while also considering space constraints) and the overall backyard ambiance they're trying to create. All while keeping the price within their pool budget. To help you create your ideal poolscape, read up on some of the coolest and most popular pool designs and shapes below:
The "Knife Edge" or Perimeter Overflow Pool
Commonly associated with luxurious resorts, homeowners can now enjoy the opulent and smooth glassy waters of their very own perimeter overflow pool. Mirror-like in appearance, the water of these swimming pools flows over all sides of the pool and are caught in a channel below, which then recirculates the water back into the pool. These are typically found in geometric pool shapes (such as rectangular or lap pools), though creative pool designers and builders can incorporate them into more freeform pool design.
The Spool Pool Design
One of the most popular new pool design trends this season is the "spool". Being both a spa/hot tub and a swimming pool, the spool is ideal for smaller spaces as it allows pool lovers to enjoy both the benefits of a hot tub and a pool. Many can be equipped with specialized features that can allow avid swimmers to enjoy the benefits of a lap pool in this small space.
The Freeform Pool Design
Always a favorite, the freeform pool design resembles a lagoon or pond and often comes with numerous rock features such as grottos, caves, and more. Typically striving to mimic a tropical oasis, freeform pool shapes are perfect for those who want to create a relaxing, laid back spot in their backyard.
Pool Design Budget and Pricing
With a pool designer like The Pool Guy, we can help you develop the best pool design within your budget. While some designs tend to be a little more pricey, we want to help you design the perfect backyard pool area. At The Pool Guy, when we say we will be with you every step of the way we mean it.
ABOUT THE COMPANY
The Pool Guy is the Lafayette area's innovative and experienced pool builder. By combining careful design with proper planning and quality construction, they create swimming pools and outdoor living spaces that are beautiful additions to homes where memories will be made for years to come.
Started by two experienced pool professionals who set out to give Lafayette area homeowners the service they deserve, The Pool Guy is an award-winning company that doesn't focus on building the most pools — they want to build the best pools. They are a team of highly skilled experts with a reputation for extreme attention to detail. If you want your pool built right, you want The Pool Guy.
The Pool Guy is a proud member of the Association of Pool and Spa Professionals (APSP), the Acadian Home Builder Association, and the Better Business Bureau (BBB). They have three consecutive awards from Locals Love Us and provide outstanding service to Lafayette, Youngsville, Carencro, Broussard, Scott, Duson, Breaux Bridge, New Iberia, Abbeville, St. Martinville, and nearby communities.
Contact them today to start building your own backyard memories. (337) 298-4746