The Pool Guy's Guide to Pool Decking, Coping, Interior Finishes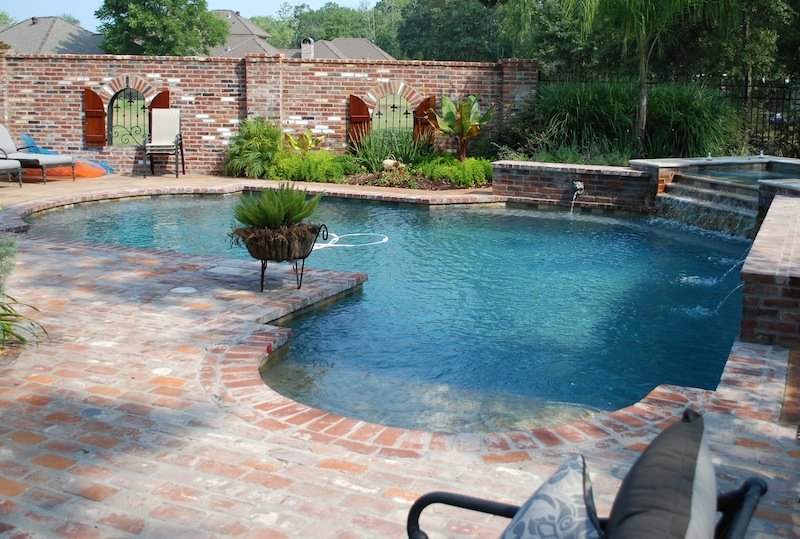 When it comes to the appearance of your pool and outdoor living area, there are three factors that can play an important role: your decking, your coping, and your pool's finish. Balancing the three and deciding which to choose can be a challenge, but don't worry – we at The Pool Guy have you covered. Read on for further tips on how you can choose the best of the three for your pool.
Your Pool Decking
When it comes to pool decking, 5 things need to be kept in mind:
The economical aspect (the cost to have it installed as well as its durability)
How easy it is to maintain (wooden decks are gorgeous but require a lot of maintenance. Pavers are essentially maintenance-free)
How well the surface can reflect heat (this is particularly important here in Lafayette)
The deckings slip resistance (good traction is a must-have on any pool surface)
Your design options (decorative concrete may be the most flexible, but it may also not be the most desirable depending on your backyard and home architecture)
Your Pool Coping
The pool coping is the material which is seen at the top of the pool wall. This is an important consideration as it will help blend your pool into the decking materials that you choose. If the coping is substantially different in finish or color from your decking material, then it will come across as being a large, gaudy stripe which encircles your pool.
Your Interior Finish
The finish of your pool will depend on two key components:
1) Your budget
2) Your desired effect
White plaster is the oldest and most common finish. It is the least expensive and requires little upkeep but it will require refinishing within 5 to 10 years. Another option is colored plaster which has the ability to tint the pool waters and give it a whole new reflection.
Some other finishes to consider include:
Aggregates (this includes aggregate finishes, polished aggregates, and exposed aggregates. Each comes with its own set of benefits and price points)
Tile finishes (this includes ceramic tiling, porcelain tiling, stone tiles and glass tiles)
If you've been thinking about building a pool or upgrading your current one, click here to take a look at our photo gallery.
Better yet, call us today (337) 298-4746 with any questions you might have or to set up a FREE consultation!
ABOUT THE COMPANY
The Pool Guy is the Lafayette area's innovative and experienced pool builder. By combining careful design with proper planning and quality construction, they create swimming pools and outdoor living spaces that are beautiful additions to homes where memories will be made for years to come.
Started by two experienced pool professionals who set out to give Lafayette area homeowners the service they deserve, The Pool Guy is an award-winning company that doesn't focus on building the most pools — they want to build the best pools.  They are a team of highly skilled experts with a reputation for extreme attention to detail. If you want your pool built right, you want The Pool Guy.
The Pool Guy is a proud member of the Association of Pool and Spa Professionals (APSP), the Acadian Home Builder Association, and the Better Business Bureau (BBB). They have three consecutive awards from Locals Love Us and provide outstanding service to Lafayette, Youngsville, Carencro, Broussard, Scott, Duson, Breaux Bridge, New Iberia, Abbeville, St. Martinville, and nearby communities.
Contact them today to start building your own backyard memories. (337) 298-4746