St. Martinville Pool Builder
Best St. Martinville Pool Construction & Pool Service

If you're looking to build the perfect outdoor oasis steps away from your home, look no further than The Pool Guy. As a leading St. Martinville pool builder, we specialize in custom pool design & construction in St. Martinville. Our innovative poolscapes are designed to take your breath away and provide years of unforgettable memories with family and friends. Whether you want a simple, elegant poolscape with clean lines, or a more ornate design complete with water features and rock work, our St. Martinville pool designers will work closely with you to create the perfect outdoor paradise that enhances your home's functionality and aesthetic. We also offer St. Martinville pool renovation services for those pools in need of a makeover.
We believe your time is best spent in the water rather than caring for it, which is why our St. Martinville pool service experts have all your pool care needs covered. Our trained pool technicians have the experience and knowledge to ensure your pool is operating efficiently and effectively, so you can focus on making unforgettable memories in the water. We offer a number of St. Martinville pool service & maintenance options perfect for busy homeowners like you. When it comes to your outdoor living space, don't settle for an ordinary backyard. Give us a call today to learn more about why we are the premier pool builder in St. Martinville. For directions to our location, please click here.
Custom Pool Shapes & Builds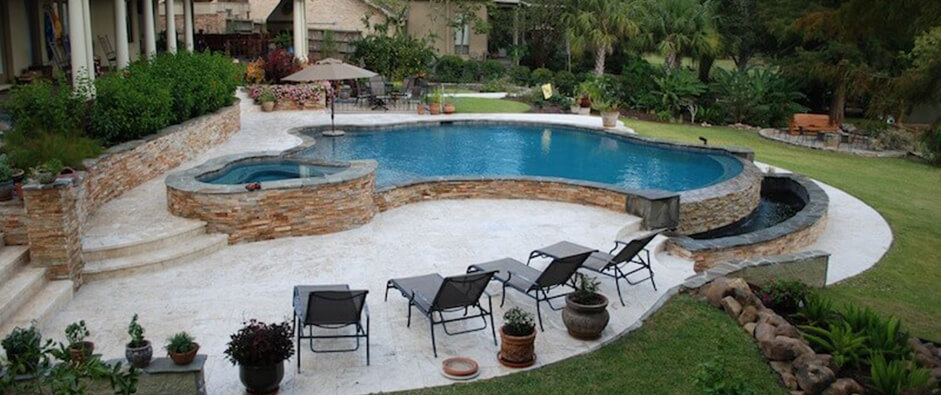 Finance Your St. Martinville Pool
Don't let anything stop you from getting the pool of your dreams. Since pool loans are unique, they need to have a different approach. The Pool Guy of Louisiana has many pool financing options available for your new pool. We'll work closely with you to ensure you secure the best pool loan in St. Martinville.
Hear From Our Clients
"We couldn't be happier than we are with our completed pool and spa. When we didn't know what design we wanted, Dwayne helped us decide on what style and pool shape best fit our needs and the look of our home. We are so happy with the completed project and would recommend the Pool Guy La to anyone who is looking for a pool builder in Lafayette."
Carla Smith
Find Us Here
CONTACT US